The Highland Collections
HIGHLAND COLLECTIONS brings together in a single volume the work of seven Highland composers in reprints of their collections originally published in the 18th and 19th centuries. As well as original compositions, they contain other tunes which were current at the time of publication, and open up an accessible resource for today's players and scholars.
The composers, William Christie, Isaac Cooper, Angus Cumming, Charles Grant, Donald Grant, James Henry and William Morrison, were selected on the basis of the quality of their music, and their work has been carefully reprinted in readable type. There are over 500 tunes, and an introduction from Charles Gore.
The book has 170 pages, and is available in soft cover and also in a limited edition hard cover version.
There is a brilliant CD of some of this music by Scots fiddler Lauren MacColl 'Strewn with Ribbons' - www.laurenmaccoll.co.uk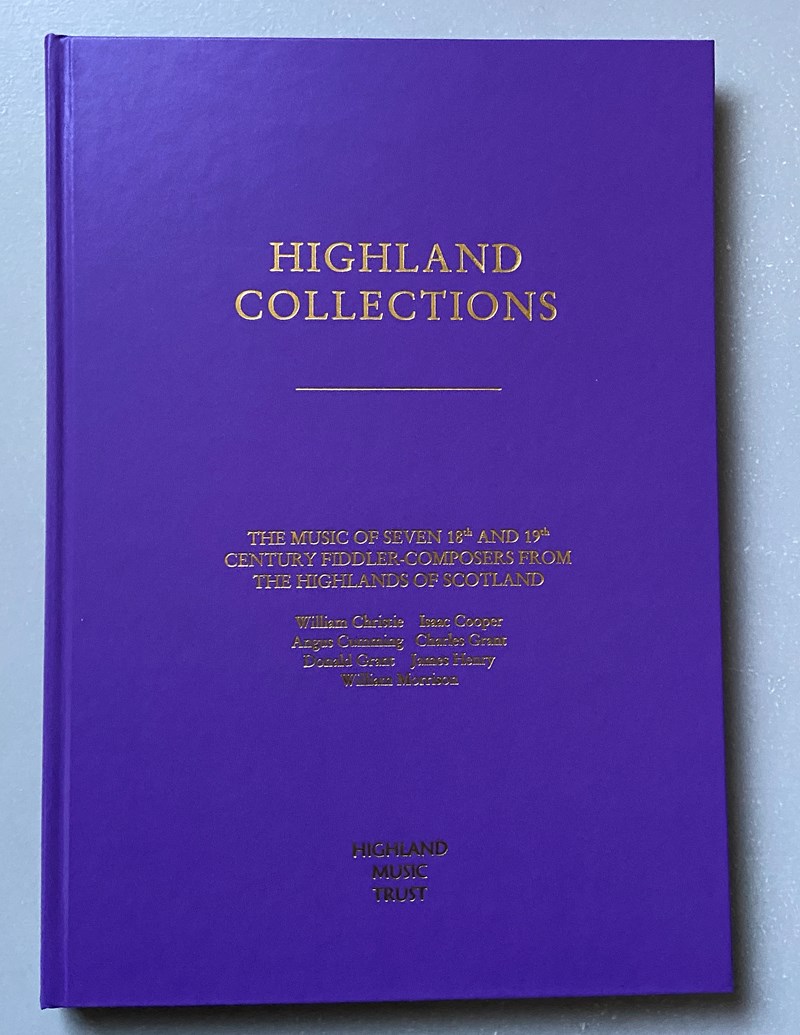 Contents
4th of April, The - or Laing and Hendry's Birth Day
Aberlour Rifle Volunteer March
Acharnac's Reell - or Ba'l nan Grantich
Airy Plover of the Heath, The, (Feidag ghorach an t'sleidh)
Alexr Arthur Duff Esq.Younger of Muirtown's Reel
Are you always pleased
Arndilly House (Strathspey)
Arndilly's Reell - or Rittac air Mac'homaich
Auchry
Auld Brig o' Don, The (Solo Strathspey)
Auld Kirk of Macallan, The (Reel)
Ba'l nan Grantich - or Acharnac's Reell
Bachelors Jig, The
Bal n' Iden - or General Grant's Reell
Ballendalloch's Reell
Banff Castle
Banff Lasses (Reel)
Banks of Nairn, The (Reel)`
Banks of Spey, The
Banks of the Deveron, The
Beggar's Bennison - or Thannie na buecht. horo
Benrinnes (Strathspey)
Bha mi Nrior nam carisk - or Delachaple's Reel
Bishop, The
Black at the Bane (Strathspey)
Black Strap (Reel)
Bog in Lochan - or Lady Grants Reell
Bonny Banks of Ugie, The (Strathspey)
Bonny Lassie turn you (Reel)
Bother, The - or Tibby Fowler's Grand Daughter (Strathspey)
Braes of Boyndlie, The
Braes of Elchies. The
Braes of Little Mill, The (Reel)
Brahan Castle
Brander, The (Reel)
Bride, The - or Phit deubh
Bridegroom greets when the Sun gaes tee, The
Bridge of Ballindalloch - or Craig-a-Crochan (Strathspey)
Brown Hair'd Youth, The (Oigfhear a chulduinn)
Bruarthar Feare Mulachaird - or Mulchard's Dream
Buchan Maids are braw an' bonny, The (Strathspey)
Callembruach (Strathspey)
Caper Fey
Caper Fey
Capt H Munro of Newtown's Reel
Capt. Young of Banff's Reel
Carle can ye whistle
Carolanes Purse
Carron's Reell - or U Choira Chruim
Castle Grant
Cean Loch Alain - or Dutchess of Gordon's Reell
Charles Leslie of Findrassie's Strathspey
Chisholm's Reell, The - or Strathglass House
Clinkin o't, The (Reel)
Clurie's Reell
Coigna Scalan - or The Dutchess of Hamiltons Reell
Col. Alexr. Grant's Strathspey (or New Sweet Molly)
Col. Grant of Grant's Strathspey
Commin' thro' Kilbleen (Strathspey)
Corhabbie (Reel)
Corrimonie's Reell - or Keam Dulnich
Craig Elachie
Craig-a-Chrochan - or Bridge of Ballindalloch (Strathspey)
Cullen House (Reel)
Culloden House
Culloden Muir
Culloden Waltz
Culloden Well
Culloden's Favorite
Cumming's Rant,The - or Reel of Tulloch, with variations
Dainty Davie (Strathspey)
Darnway Castle (Strathspey)
Dawning of Day, The (with Var. by I Cooper)
Dear Meal is cheap again (Reel)
Death of Nelson, The
Delachaple's Reel - or Bha mi Nrior nam carisk
Dellagyle Pool (Reel)
Delrachnay's Rant
Deserts of Tulloch, The
Don Side - or The Forbes's Rant
Donald Simon (Reel)
Dr Guthrie's (Junr) Strathspey
Dr Ross of Dornoch (Reel)
Dr Stewart's Reel
Dr Wm Grant's Reell - or Shaun Truish Willihan
Dr Wm Grigor of Elgin's Reel
Dublin Key
Duff House
Dukers of Doon, The (Strathspey)
Duncan Swine's Wife (Strathspey)
Dundarg (Reel)
Dungarven (Jig)
Dutchess of Athole's Reell - or Tuggin tachi nul 'n Aird
Dutchess of Buccleugh's Reell
Dutchess of Gordon's Reell - or Cean Loch Alain
Dutchess of Hamiltons Reel, The - or Coigna Scalan
Earl of Moray's Reel, The
Earl of Seafield's Reel, The
Earl of Seafield's Strathspey, The
Edinvillie (Strathspey)
Elgin Trinity Lodge's Strathspey, The
Erich buit erich - or Rise lazy Lubber
Fa's sae merry's the Miller when a' his Pocks are fu'
Fair an' Lucky
Fairy Hillock, The (Pipe Tune)
Feidag ghorach an t'sleidh, (The airy Plover of the Heath)
Feve feve Tunal Chie - or The Grant's Rant
Finale, The (Hornpipe)
Fir Tree, The
Forbes's Rant, The - or Don Side
Futterat wi' the gray tail, The (Reel)
Gallop to Kinross, A
Gather and go (Jig)
General Grant's Reell - or Bal n' Iden
General Grant's Strathspey
Geordie Afflick (Reel)
George Taylor (Hornpipe)
George Wright (Strathspey)
Glassa House
Glen Grant (Strathspey)
Glen Morisone's Reell
Glengerrie's Reell
Glenrinnes (Strathspey)
Good night and Joy be wi' you a'
Grant's Rant, The - or Feve feve Tunal Chie
Grants' Hornpipe, The
Griegs Strathspey
Ha'd the Cradle Rockin (Reel)
Hard to the bone (Strathspey)
Harlequin Reel for the Violin, The
Harlequin Strathspey, The (for the Violin)
Haugh's of Cromdale
Haughs of Cromdale, The (Strathspey)
Henry A Grant Esq. of Elchies (Strathspey)
Hessian's March, The - or O if I were where Gadie runs
Hey the hedrie Falie - or Miss Brodie of Brodie's Favorite
Highland Wedding, Old (with variations)
Hills of Cromdale, The (Reel)
His Grace the Duke of Gordon's Recovery
Hon Miss Charlotte McKinzie's Favorite, The
Hon Mr McKinzie of Seaforth's Birth Day, The (Reel)
Horuinn o u oro
Humours of Cullen, The (Jig)
I hae a lass o' my ain (or Mrs Grant)
I lost my heart on Friday (Reel)
I think the Carlie's wud the night (Strathspey)
I'll hae a Piper to my Gudeman
Invercald's Reell
Inverness - or The Northern Meeting
Irish Lasses, The
Irish Wedding, The
It's nae ay for want o' health the Ladies gang to Pannanich (Reel)
Jacksons Folly
Jacksons Hobby
Jacksons Ramble
James McInnes Esq. Dandaleith (Reel)
James McInnes Esq. Dandaleith (Strathspey)
James Morrison (Reel)
James Morrison (Strathspey)
Jarnovichs Reel
John Cumine Esqr of Auchry's Strathspey
John Hay Deldonald (Strathspey)
Johnny Lad (Reel)
Kail Reets of Fittie , The
Keam Dulnich - or Corrimonie's Reell
Keel Row, The (Reel)
Ketty O'Ferrel
Killiecrankie - a favorite set
Kilravock's Reell
Kind Robie come again (Reel)
Kinermony (Strathspey)
Kiss the Lass ye like best (Reel)
Knockandoe's Reell - or Tom Neam
Lady Charlotte Campbells New Reel
Lady Dunbar of Boath's Strathspey
Lady Dunbar of Northfield's Reel
Lady Dunbar of Northfield's Strathspey
Lady Dunbar of Northfield's Strathspey
Lady Gordon Cumming's Strathspey
Lady Gordon of Gordonstown's Reel
Lady Gordon of Gordonstown's Strathspey
Lady Grant of Dalvey's Reell
Lady Grant of Grants Reell - or Bog in Lochan
Lady Grant of Monymusk's Reell
Lady Hood's Favorite
Lady Jane Montagues Strathspey
Lady Mary Ross's Favorite
Lady McIntosh's Reell
Lady McKinzie of Coul's Reel
Ladys of Dingwall, The (Reel)
Laing and Hendry's Birth Day - or the 4th of April
Laird of Foveran, The - or Pearlin Peggie's Bonny
Lake of Gold, The
Lament for Mr Thomas Grant, of Glen Elgin
Lament for Sir John Macpherson Grant
Lament for the Auld Gean Tree of Wester Elchies
Lament for the Death of Hugh Allan
Lament for the Death of Jane Duchess of Gordon
Lament for the Death of Lady Dunbar of Northfield
Lass Amongst the Actenoch, The - or Nian a Bhodich sin rinattin
Lassie an' Siller an' a's my ain
Last Pint, The - or Pint leur chine
Lay's of Lunkerty, The (Strathspey)
Leiut. Col. Baillie of Leys Strathspey
Let that stand there (Reel)
Lethen's Reell
Lewis Gordon
Lieut. Abercromby's Reel
Loch Madey (Reel)
Loch of Forfar, The (Strathspey)
Loch of Strathbeg, The (Strathspey)
Lord Banff - dancing sett
Lord Banff's Reel
Lord Banffs Strathspey
Lord Fife's Reell
Lord Fife's Waltz
Lord Fife's welcome to Elgin
Lord Finlater's Reell
Lord Lovate's Reell - or Paal Mor
Lord Seaforth's Reell - or Thuar u Urrim chosen u a
Lurg's Reell
Lynn Burn (Strathspey)
Lynn of Ruthrie
Macallan (Strathspey)
Maclachlan's Reell
Macleod's Reell
Macpherson's Rant
Mad Cap (Reel)
Maggie gae back an' tak' up your Scullie
Major Ray's Strathspey
Mal ro - or The Monro's Rant
March for the Clans, A
Marchioness of Huntly's Strathspey, The
Marquis (of) Willington
Marquis of Huntly's Highland Fling, The
Marquis of Huntly's Reel, The
Merry Lads of Clyde, The
Mill O' Tiftie's Annie
Millar of Drone, The (altered by I Cooper)
Millers Wedding, The
Miss Abercromby's Reel
Miss Abernethie of Mayen's Reel
Miss Amelia Mary Duff of Muirtown's Strathspey
Miss Ann Donaldsons Reel
Miss Ann Gordon, Heath Cottage
Miss Ann Greigs Reel
Miss Ann Robinson's Strathspey
Miss Anny Forbes Reel
Miss Bettsy Robinson's Reel
Miss Bettsy Wilson's Reel
Miss Betty Forbes' Reel
Miss Bookers Reel
Miss Bowis of Inverness (Strathspey)
Miss Boyd's Strathspey
Miss Brander's Reel
Miss Brodie of Brodie's Favorite - or Hey the hedrie Falie
Miss Brown of Linkwood's Strathspey
Miss Charlotte Ross's Reel
Miss Christian Duff's Favorite
Miss Cumine of Auchry's Strathspey
Miss Cumine of Logie's Reel
Miss Cumine of Logie's Strathspey
Miss Dirom - dancing sett
Miss Dirom's Reel
Miss Dirom's Strathspey
Miss Duff of Muirton's Jig
Miss Dunbar of Northfield's Favorite - or Mrs McIntosh of Raigmore (Reel)
Miss Dunbar of Northfield's Hornpipe - or Mrs McIntosh of Raigmore
Miss Dunbar of Northfield's Strathspey
Miss Forbes's Farewell to Banff
Miss Fraser of Stoneyfield's Reel
Miss G Abernethies Strathspey
Miss Garden Campbell of Troup's Hornpipe
Miss Georgina Forbes's Favorite
Miss Gordon of Shieldagreen's Reel
Miss Gordon of Gight's Reel
Miss Gordon of Nethermuir's Strathspey (orig. Miss Urquhart of
Meldrum)
Miss Gordon's Reel
Miss Graham's Strathspey
Miss Grant of Elchies's Strathspey
Miss Grant of Grant's Favorite
Miss Grant of Grant's Strathspey
Miss Grant of Grants Reell - or Rittal ar an Urlar
Miss Henderson of Stempster's Reel
Miss Henrietta Abernethie's Reel
Miss Herries Forbes Reel
Miss Innes of Edingight's Reel
Miss Isabella Carle (Reel)
Miss Isabella Reid's Reel
Miss Jane Campbell's Strathspey
Miss Jane Dunbar's Reel
Miss Jane Gordons Reel
Miss Jane Grant of Grant's Reel
Miss Jane Stewart's Reel
Miss Jeannie S Grant's Favourite
Miss Jeany Abernethie's Reel
Miss Kelman's Reel
Miss Kelman's Strathspey
Miss Leslie of St Andrews Reel
Miss Louisa Brown's Reel
Miss Macdowall Grant's Reel
Miss Macleod of Dalvey's Favorite
Miss Macleod of Dalvey's Waltz
Miss Margt. Gordon's Reel
Miss Mary Grant's Reell
Miss Mary Shand's Reel
Miss Mary Urquhart's Reel
Miss McMillan's Quadrille
Miss Moodie's Hornpipe
Miss Munro of Dornoch's Reel
Miss Nancy Robinson's Reel
Miss Nicholson's Reel
Miss Penuel Grant of Grant's Strathspey
Miss Robinson of Clermeston's Reel
Miss Rose of Dranie's Reel
Miss Rose of Tarlogie's Reel
Miss Rose's Strathspey
Miss Ross's Strathspey
Miss Sarah Georgiana Duff of Muirtown's Strathspey
Miss Scott's Favourite March
Miss Shand's Strathspey
Miss Sophia Cumming's Reel
Miss Sophia Dirom's Reel
Miss Sophia E Grant (Reel)
Miss Susan Brown's Strathspey
Miss Sutton - (Reel)
Miss Taylor's Reel
Miss Urquhart of Meldrum (now Miss Gordon of Nethermuir's Strathspey)
Miss Urquhart of Meldrum's Reel
Miss Wedderburn's Reel
Miss Williamson of Oldfield's Jigg
Monro's Rant, The - or Mal ro
Moonmore's Strathspey
Mormond (Strathspey)
Mr Alexr. Leslie's Strathspey
Mr Allan Grant's Strathspey
Mr And. Laughlan's Welcome to Banff
Mr Brander of Pitgavney's Strathspey
Mr Brander of Springfield's Strathspey
Mr Bruce's Reel
Mr Bruce's Strathspey
Mr Campbell of the Academay's Strathspey
Mr Chas Gordon's Strathspey
Mr Duncan Forbes Duff of Muirtown's Reel
Mr Duncan of Garmouth's Strathspey
Mr F G Campbell of Troup and Glenlyon's Reel
Mr Fletcher's Reel
Mr Fletcher's Strathspey
Mr Fortath's Reel
Mr Gibb's Jig
Mr Gillan's Reel
Mr Gillan's Strathspey
Mr H R Duff's Favorite
Mr Jaffrey's (Junr) Strathspey
Mr Jas Thomson's Strathspey
Mr Lauder Dick's Strathspey
Mr Leid's Reel
Mr Leid's Strathspey
Mr Malie's Strathspey, or Prior's
Mr Matthew's Reel
Mr Matthew's Strathspey
Mr McAndrew's Strathspey
Mr McDonald of Gordon Castle's Strathspey
Mr McIntosh's Reel
Mr McIntosh's Strathspey
Mr McPhadden's Favorite
Mr Meldrum's Reel, Banff
Mr Morrison Supervisor Dingwall (Reel)
Mr Niel's Strathspey
Mr Officer's Strathspey
Mr P Brown of Linkwood's Strathspey
Mr Patrick Duff Junrs. Strathspey
Mr Reid of Elgin Academy's Strathspey
Mr Reid's Reel
Mr Ritchie's Reel
Mr Ritchie's Strathspey
Mr Robt. Bain's Strathspey
Mr Sinclair younger of Barrack's Reel
Mr Thomas A Grant of Glen Elgin, Australia
Mr Wagstaffs Favorite
Mr Watt's Reel
Mr Willm. Fordyce's Strathspey
Mr Wm Eccles Favorite
Mr Wm Young's Reel
Mr Young of Maryhill's Strathspey
Mrs Abercromby of Glassa's Reel
Mrs Abernethy's Strathspey
Mrs Alexr. Brodie's Reel
Mrs Anderson of Kincraig's Strathspey
Mrs Andrew's Strathspey
Mrs Bremner, The Manse, Glenbucket (Reel)
Mrs Capt. Reid's Strathspey
Mrs Col. Grant of Grant's Strathspey
Mrs Col. Grant's Reel
Mrs Col. Hay of Mayne's Strathspey
Mrs Col. Sinclair of Forss's Strathspey
Mrs Colquhoun Grants Strathspey
Mrs Crombies Reel
Mrs Cumine of Auchry's Strathspey
Mrs Dingwall of Brucklay's Reel
Mrs Dingwall of Brucklay's Waltz
Mrs Doctor Abernethie's Reel
Mrs Dr Nicol's Reel
Mrs Dr Stewart's Reel
Mrs Dr Stewart's Strathspey
Mrs Dr Torrence of Thurso's Reel
Mrs Dr. Stephen's Reel
Mrs Duff of Carnucie's Reel
Mrs Duff of Carnucie's Strathspey
Mrs Duff of Muirtown's Waltz
Mrs Duff, The Manse, Grange (Reel)
Mrs Duff's Recovery
Mrs Ernest Leslie's Strathspey
Mrs Farquhar's Reel
Mrs Farquhar's Strathspey
Mrs Forsyth's Pibroch (Manse of Abernethy)
Mrs Fortath's Strathspey
Mrs Fraser of Belladrum's Reel
Mrs Fraser of Culbockie's Jig
Mrs Garden Campbell of Troup and Glenlyon's Reel
Mrs Garden Campbell of Troup and Glenlyon's Strathspey
Mrs General Stewart's Strathspey
Mrs Geo. Abercromby's Reel
Mrs George Stewart's Strathspey
Mrs Gibbon's Reel
Mrs Gibbon's Strathspey
Mrs Gordon of Aberdour's Strathspey
Mrs Gordon of Aberdour's Strathspey
Mrs Gordon of Cairness' Reel
Mrs Gordon of Cairness' Strathspey
Mrs Gordon of Moonmore's Strathspey
Mrs Grant - Dancing Set
Mrs Grant (or I hae a lass o' my ain)
Mrs Grant of Bught's Jig
Mrs Grant of Glen Grant (Reel)
Mrs Grant of Laggan's Favorite
Mrs Grant of Seabank's Strathspey
Mrs Grant of Viewfield's Reel
Mrs Henderson of Aimster's Favorite
Mrs James Duff's Reel
Mrs James Duffs Strathspey
Mrs Jamieson's Favourite
Mrs Johnston's Reel
Mrs Lumsden of Achindore's Reel
Mrs Major Ray's Favorite
Mrs Masson's Reel
Mrs McInnes of Danalieth's Reel
Mrs McIntosh of Raigmore - or Miss Dunbar of Northfield's Favorite (Reel)
Mrs McIntosh of Raigmore - or Miss Dunbar of Northfield's Hornpipe
Mrs McLean of Borrowry's Strathspey
Mrs McLeod of Geastow's Strathspey
Mrs McLeod of Rasey's Strathspey
Mrs McLeod Younger of Talasker's Strathspey
Mrs McMillan's Quadrille
Mrs Peterkin of Grange Hall's Reel
Mrs Peterkin of Grange Hall's Strathspey
Mrs Professor Christie's Waltz
Mrs Reid of Kilcalmkill's Strathspey
Mrs Rose of Kilravock's Jigg
Mrs Rose's Reel
Mrs Rose's Strathspey
Mrs Rose's Strathspey
Mrs Ross, Dowger of Kilravock's Favorite
Mrs Seller's Favourite, Dunleigh House
Mrs Spence's Strathspey
Mrs Stephen Buchromb's Waltz
Mrs Walker of Urquhart's Strathspey
Mrs Watt's Strathspey
Mrs Wilson's Reel
Muirtown House
Mulchard's Dream - or Bruarthar Feare Mulachaird
Mullonies Jig
Munro's Rant
Murphey Dellany
My Bonny Laddie has my heart
My hearty wanton Carlie (Strathspey)
New Sweet Molly (or Col. Alexr. Grant's Strathspey)
Nian a Bhodich sin rinattin - or The Lass Amongst the Actenoch
Nine-Pint Coggie, The (Reel)
North of the Grampians
North Side of Spey, The (Strathspey)
Northern Meeting, The - or Inverness
O if I were where Gadie runs, or The Hessian's March
O if Jockey wou'd but steal me (Reel)
O mo chuid chuideachda (O thou my choice of Companions)
O thou my choice of Companions (O mo chuid chuideachda)
O what needs I my apron wash
Oigfhear a chulduinn (The Brown Hair'd Youth)
Orton House (Strathspey)
Paal Mor - or Lord Lovate's Reell
Paddy O'Connor
Paddy O'Rafferty
Pearlin Peggie's Bonny - or The Laird of Foveran
Peramble, The
Peter Reid Esqr., Kinardy
Phit deubh - or The Bride
Pint leur chine - or The Last Pint
Poolachrie
Prior's - or Mr Malie's Strathspey
Punch is done, The (Jig)
Railway Hornpipe
Raza's Reell
Reel of the Mearn's, The
Reel of Tulloch - or The Cumming's Rant, with variations
Reel of Tyrie, The
Reel, A
Reel, A
Reel, A
Riefield Lodge (Strathspey)
Right Honble. Lady Saltoun's Reel, The
Right Honble. Lady Saltoun's Strathspey, The
Rise lazy Lubber - or Erich buit erich
Rising of the Lark, The
Rittac air Mac'homaich - or Arndilly's Reell
Rittal ar an Urlar - or Miss Grant of Grants Reell
Road to Down, The
Robert Carmack (Pastoral Strathspey)
Robin fill the drink about (Reel)
Robt. Abercromby Esqr, M.P. (Reel)
Rocks of Melross, The (Reel)
Romance
Rothemurches's Reell - or Tigh 'ndun
Rothiemurchus
Ruthrie (Reel)
S'irom trom a tha mi - or Sad Sad am I
Sad Sad am I - or S'irom trom a tha mi
San Rire va Vannich - or The Wedding
Sanriar abhog a Fiannach - or The Sport
Sarah Williamson's Lament
Scurran-a-Morange (Strathspey)
Scurran-a-Wells (Strathspey)
Seme Rune Tallanach
Shaun Truish Willihan - or Dr Wm Grant's Reell
She's Sweetest when she's Naked (Reel)
Shogalie's Reell
Sir Alexr Macdonald's Reell
Sir Archd. Dunbar of Northfield's Strathspey
Sir Archd. Dunbar of Northfield's Strathspey
Sir Harry Innes's Reell
Sir James Colquhoun's Reell
Skirdustan (Strathspey)
Sleep on till Day
Smilin' Katie (Reel)
Smith he's black an' brucket, The
South Side of Spey, The (Reel)
Spell, The (Reel)
Sport, The - or Sanriar abhog a Fiannach
Squital Bridge
St John's Well
Strathglass House - or The Chisholm's Reell
Strathspey, A
Strathspey, A
Swiss Cottage (Ballindalloch) (Reel)
Teagues Ramble
Thannie na buecht. horo - or Beggar's Bennison
Thro' the warld wou'd I gang wi' the Lad that loves me (Reel)
Thuar u Urrim chosen u a - or Lord Seaforth's Reell
Tibby Fowler's Grand Daughter, or The Bother (Strathspey)
Tigh 'ndun - or Rothemurches's Reell
Tom Neam - or Knockandoe's Reell
Trafalgar, a Strathspey
Trip to Sky, A (Reel)
Trip to Strathbogie, A
Tuggin tachi nul 'n Aird - or Dutchess of Athole's Reell
Tulloch Castle (Strathspey)
Tullochgorm's Reel
Tweed Side
U Choira Chruim - or Carron's Reell
Up the Town in haste
Up the Town in haste for the Violin
Victory, The (Reel)
Viscount Mandeville
W Morrison's Compliments to Mr Scott 78th Regt Band
W Morrison's Favorite
Waggle Cairn, The (Strathspey)
Warld's gane o'er me now, The (Jig)
Wedding, The - or San Rire va Vannich
Wester Elchies (Reel)
Western Harvest Home, The
When will ye wed me with a ring
Whistle o'er the lave o't
Wild Irishman, The
Will ye go to the Broom
William's Love (Reel)
Willie are ye waukin (Reel)
Willie's drown'd at Gamry