The Pringle Collections
John Pringle, born c. 1770, fiddler-composer of Edinburgh, published 2 collections: A Collection of Reels Strathspeys & Jigs (Edinburgh, 1801), Printed & Sold by J. Hamilton, No. 24 North Bridge Street, and A Second Collection of Strathspeys, Reels, Jiggs &c (Edinburgh, date unknown) Printed for the Author, to be had at his Lodgings, No 16 Rose Street.

The books were dedicated respectively to the Hon Miss Elliot and Lady Scott of Ancrum, both members of prominent Borders families, suggesting a connection with that area.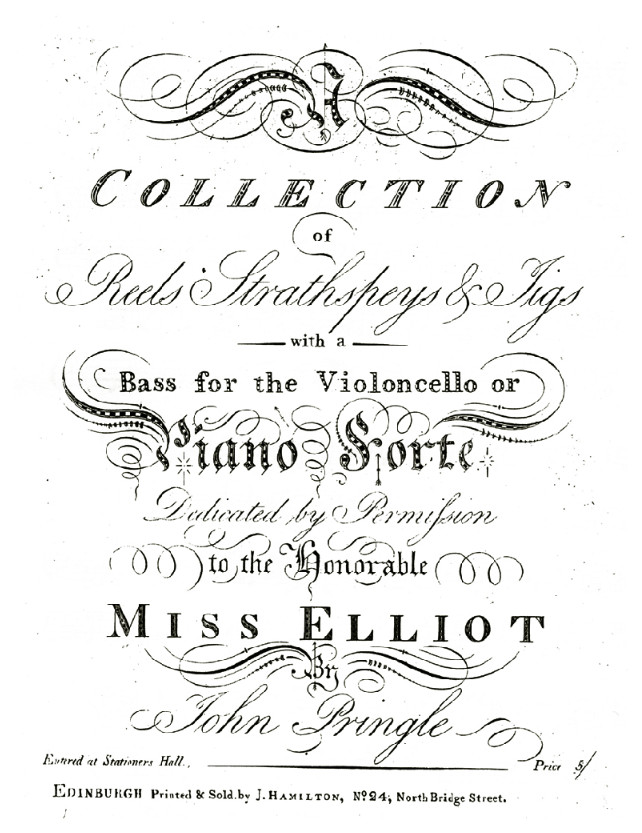 Download
File Name
Last Modified
File Size

Pringle

.pdf

08 December 2021
2.13MB
Betsy Howison's Favorite
Bonniest Lass in a' the Warld, The
Charles Street Bath
Cut him down Susie, a Strathspey
Dance to your Daddy etc. ' with Variations
Dr Rutherford of Craigow's Strathspey
Ettrick Shepherd, The
Fertish Hill, The
Hawick Lasses, a Reel
Hawick, a Strathspey
Hendrie's Hornpipe
Honble Henry Erskine's Favorite
Honble Margaret Erskine's Reel, The
Honble. Captn. Elliot's Quick Step
Honble. Miss Catherine Elliot's Reel
Honble. Miss Elliot's Strathspey
Honble. Miss H Elliot's Dance, The
Honble. Miss H Elliot's Reel
Honey Moon, The
House of Gray - a Jigg (The)
Irish Wedding (The), a Favourite Dance
James Boick, a Strathspey
Kitty Tyrrel
Knit the Pocky ' a Reel
Lady Dalrymple Hay's Strathspey
Lady Jardine of Applegirth's New Strathspey
Lady Minto's Favourite
Lady Scott's Reel
Lady Scott's Strathspey
Lament for Lord Ballenden (A)
London Reel, The
Lord Minto's Waltz
Lord Palmerston's Favourite
Lord Seaforth's Strathspey
Loyal Edinburgh Spearmen's March, The
Marriage Morn, The
Miller of Drone - a Strathspey (The)
Minto House ' a Strathspey
Miss Adams's Reel
Miss Anderson's Favourite
Miss Ann Hay's Reel
Miss Balfour's Strathspey
Miss Barbara Campbell's Jigg
Miss Bonnar's Reel
Miss Caldwall's Favorite
Miss Cay's Jigg
Miss Charlotte Carruthers's Favorite
Miss Colquhoun's Reel
Miss Dallas's Strathspey
Miss Dalrymple Hay's Reel
Miss Diana Sinclair's Strathspey
Miss Duff's Strathspey
Miss E Wade's Reel
Miss Elizabeth Campbell's Reel
Miss Elizabeth Dewar's Reel
Miss Erskine Wade's Jigg
Miss Falconer's Strathspey
Miss H Erskine's Strathspey
Miss H Scott's Strathspey
Miss Haldane's Jigg
Miss Hope's Strathspey
Miss Jane Campbell's Strathspey
Miss Jane Hunter's Reel
Miss Jane Tytler's Favourite
Miss Jessy Dewar's Favourite
Miss Jessy Scott's Reel
Miss Julia Sinclair's Favorite
Miss Lilias Cunningham's Dance
Miss Lowis's Reel
Miss Macdonald Buchanan's Strathspey
Miss Maclachlan's Reel
Miss Maria Stewart's Jigg
Miss Maxwell Gordon's Reel
Miss Millar's Strathspey
Miss Napier's Reel
Miss Nisbet's Strathspey
Miss Norton's Reel
Miss Rollo's Strathspey
Miss Sandford's Jigg
Miss Scott of Ancrum's Reel
Miss Scott of Sinton's Strathspey
Miss Sherriff's Strathspey
Miss Stevenson's Strathspey
Miss Stuart of Allanbank's Strathspey
Miss Thomson of Leckybank's Strathspey
Miss Tytler's Strathspey
Miss Walker's Strathspey
Mr A R Sutherland's Reel
Mr Alexr. Campbell's Strathspey
Mr David Maxwell's Favourite
Mr Davidson of Cantray's Strathspey
Mr E Marjoribanks's Hornpipe
Mr E Marjoribanks's Quick Step
Mr Henry Rankine's Strathspey
Mr James Campbell's Strathspey
Mr James Jenkins's Strathspey
Mr John Scott's Reel
Mr Robert Hunter's Strathspey
Mr Samuel Macknight's Favourite
Mr William Jardine's Strathspey
Mrs Col. Ross's Reel
Mrs Hardie's Strathspey
Mrs Ingliss's Strathspey
Mrs Johnston's Reel
Muirland Willie
Neeps like Sucker, whae'll buy Neeps
Poltogue Jigg (The)
Prince of Wales's Fancy, The
Quick Step
Robinslaw
Sally Robinson's Favorite
Tarry a while
Tiviot Banks
Weel may ye a' be
Willie Pringle, a Strathspey
Wilton Lodge, a Strathspey